List of the Questions asked
in AMA session, Feb 9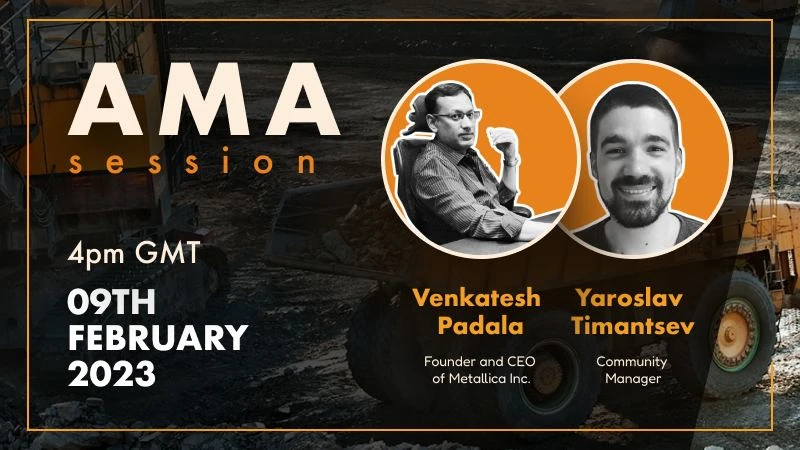 Introduction
Hello, Welcome to the 5th AMA session of Metallika and Good day to one and all. Myself, Venkatesh Padala, am the founder and CEO of Metallika project and Yaroslav our Marketing and community manager will together be hosting this session. I'll give you a brief update about Metallika and the recent developments. I would like to take this opportunity to thank you personally for the support, confidence and the interest you all have of Metallika.
Let me start with a giving a brief introduction about Metallika for all the newcomers and also update you all regarding the progress of the project. Towards the end, we'll be happy to answer any questions that you all might have but taking the limited time we have, please consider the fact that we might or might not be able to respond to each and every question. We apologize in advance for any questions that are left unanswered. We will try to respond offline and post them at a later date.
We, the entire Metallika team would like to thank each one of you for being part of the Metallika family and the support you have been giving us. We have been organically growing and currently we are a strong group of close to 19000 members in the Metallika family and growing. It shows the belief that the members have in the project and that motivates and strengthens the vision that the Metallika team has.
Metallika is a global company having its registered office in Dubai with a vision to decentralize the entire mining lifecycle. The board along with myself have a cumulative experience of 100+ years in Mining and technology industries and the technical team has a cumulative experience of over 25 years in the blockchain technologies.
While working in the mineral mining industry for the past 7 years and having more than 15 years experience in the IT industry, we started analysing the benefits of use of Blockchain to tackle the challenges faced in the mineral mining industry. While working in the mining industry, I have travelled extensively in Africa and visited more than 400+ mine areas over a period of 2 years. During this time, we came across multiple challenges in the industry. Thus came the vision of Metallika as a blockchain product which doesn't eradicate all the challenges and issues but can be minimized to a great extent.
About Metallika, Use cases & Vision
By implementing Metallika DAO across the various mining stages, it brings transparency and expedites the process from mine to factory while adhering to necessary compliances and regulations without any manipulation. Metallika DAO helps in reducing timelines and unnecessary paperwork indirectly being able to reduce the overhead costs.
In the process of developing Metallika DAO, we have partnered with mining license owners to explore and develop the mineral licenses and also have these mining projects as developmental use cases for the DAO. In the last quarter of 2022, we have also partnered with a company who specializes in drone technology for survey of mining areas and operations and a software company who specializes in mining software to integrate with our blockchain. We are working on the architecture for integrating our DAO with their technology which will be a huge value add for mining companies and utilization of Metallika tokens.
We are currently in an extensive development phase considering various differences in each countries regulations in relates to mining.
In conclusion, Minerals are an essential need for majority of products manufactured today and the demand for minerals will only keep increasing. The DAO METALLIKA.io will provide an opportunity for fast, convenient, reliable and transparent communication using cloud services. This would lead to more effective partnerships and investments at each stage of the mining cycle.
Metallika is a blockchain-based mining company focused on covering the lapses in the mining industry and bridging the gap between mining and investing. Metallika seeks to enhance supply chain transparency and ensure that participating in the industry is not influenced by moneybags alone. This means everyone will be allowed to invest in the industry. This will be fostered through the Metallika token.
About exchange listings
I know a lot of members have been anxiously waiting to see Metallika being listed on a CEX. We would like to let you know that we have submitted our details to list directly on Gate.io instead of smaller exchanges as planned earlier. Our submitted details are under review by the listing team at Gate.io and hoping to hear some positive news at the earliest. Hopefully before end of February or early March.
We are getting very good feedback from crypto analysts and big investors. We have already sold over 20 Million tokens in private sales.
About events participation
We are also working on participating in both Mineral mining conferences and crypto related events.
Few members of our mining team just come back from the Indaba conference in South Africa and we have identified good opportunities and partnerships for chrome trading. We also have a good opportunity in a potential Lithium mine in the African region. If all goes well, we will add the lithium mine to our partnerships which will be a huge value add. The team also met with quite a few mining companies who are very interested in coming onboard the Metallika DAO once its launched.
We are also looking at participating in couple of crypto events in Dubai and Singapore over the next two months to promote our project.
Impact on Metallika
Metallika is unique to the mining industry and currently we are probably the only project offering DAO for this industry we are very confident of a very good outcome and we stand out as a good alternative for investors with a safe and viable altcoin option in this market.
So we look forward to continued and growing support from our community members.
At this time, I would like to open up for questions that the members would like to ask us.