Circle's CSO Predicts a Rise
in Stable Crypto Firms in 2023
The crypto industry experienced one of its worst bearish periods in 2022, falling from a market capitalization of over $2T to less than $ 1 T. After peaking in November 2021, the combined market value blew up by 73%, according to CoinGecko data. Market gains were consistently wiped off, while crypto projects like UST and FTX crashed.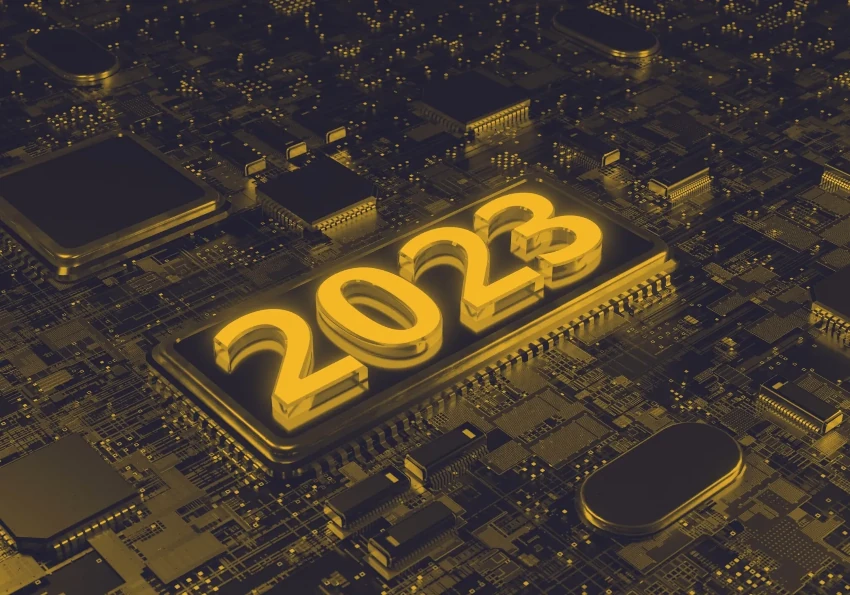 The blow-ups left a swamp of bankruptcies and led to the overall loss of interest and trust in crypto. Those eager to venture into crypto and capitalize on the potential of DeFi had their trust eroded. In contrast, doubtful investors and users now have stronger reasons not to go into crypto as they view it as unviable and risky. However, one person sees these failures necessary for the industry's growth. We are talking about the Chief Strategy Officer of Circle Dante Disparte.
The CSO disagrees with the notion that the crypto industry is getting to its end. Instead, he believes that 2022's turmoil will lead to more stable companies in 2023. The Circle Executive and Head of Global Policy said the losses suffered by the industry last year have led to a distrust in the potential of cryptocurrency. Digital currencies emerged to solve issues experienced in traditional finance, such as facilitating borderless transactions, encouraging P2P transactions without exorbitant fees, and easing access to financial products. However, what crypto promised is yet to be truly fulfilled.
To top it all, the failures recorded in 2022 have validated the concerns of policymakers worldwide, who warned about the risks of investing in cryptocurrency without a proper regulatory framework. If the crypto industry steers in the same direction in 2023, it will raise more doubt about the future of crypto and its underlying blockchain technology. Rather than encourage adoption, more users and investors will be lost. Although blockchain has massive potential to be deployed in various industries like health and mining, its position in the finance space is being threatened.
Disparte has an opinion that crypto and blockchain need to follow the footsteps of established financial firms and banks in enforcing rather than saying. That's the only way to gauge the staying power of crypto and its underlying technology. He said the adoption of crypto by firms like JP Morgan Chase and other major companies is inevitable, even though the term has a negative reputation.
Projects with Real World Usage and Solid Innovation Will Survive
Several crypto projects went bankrupt and failed last year when the market went south, but should this have happened? Shouldn't a solid project survive the storm and come back stronger? Unfortunately, that wasn't the case for these crypto companies, as most needed a viable business model. To demystify better, let's look at some market bubbles that have happened over the years.
The dot.com crash of the early 2000s and the recent crypto crash over the last couple of years were marked by periods of rapid asset price appreciation followed by steep declines. In both cases, projects that hadn't profited or showed a viable business model saw their valuations soar, attracting many investments. A perfect example is the UST stablecoin project. Unfortunately, many of these companies and projects became significantly devalued and liquidated when the bubbles burst.
During the dot.com crash, companies like Amazon and Google survived and thrived later on. Why? Because they had a solid and viable business model, revenue generation, and real-world customers. These companies had a solid foundation that allowed them to weather the same storm that swallowed many companies. A similar thing happened in the crypto space last year. While projects like LUNA, TerraUSD (UST), and FTT (FTX) crashed, others with real-world usage and solid business models survived. They had an innovative product and service, a capable and experienced team, and a well-thought-out business plan that showed the potential for long-term growth and profitability.
Disparte was right. The crypto crash is an opportunity for a stronger and more viable crypto industry; only companies with a solid foundation and business model can survive "winter." If such a company fails to survive, it isn't up to par or doesn't have what it takes to survive a storm. A crypto crash is a litmus that tests the strengths and weaknesses of crypto companies. The recent crypto crash will filter out unviable crypto projects, while serious projects will remain.
Why Metallika is on the Right Path
Metallika is a blockchain-based company that tokenizes services of mineral natural resources. The company aims to make information about exploration, operation, maintenance, and construction accessible to all and provide a fast and convenient communication path between all participants involved in mining. Apart from that, Metallika wants to make the process of mining sustainable, ethical, responsible, and economically reasonable through blockchain. The company will only produce when the customer needs minerals. This way, mining risks are curtailed.
With many mining companies setting net-zero targets for carbon emissions between 2030 and 2050, Metallika is here to help these companies achieve their sustainability goals. As a DAO, Metallika will ensure compliance amongst participants and effectively manage resources. Investors can also get into the act by mining these minerals affordably and reselling them in the future as global demand continues to increase. Investors can come on board by purchasing the METALLIKA token.
As you can see, Metallika has a solid business model that will generate revenue for its investors long-term while helping various companies achieve their clean energy transition. It is also based on real-world customers. This is why the company will remain viable for a long time. Meanwhile, you can join Metallika today to solidify global efforts to drive net-zero mining in the future.