Metallika Token Expected to Counter Market Swings and End the Year Bullish
The crypto market has suffered losses since January 2022 due to various economic and political factors. However, even in the market bearishness, many experts are predicting a slew of cryptocurrencies to be bullish and bring massive returns by the end of the year. One of such cryptos is Metallika Token (METALLIKA).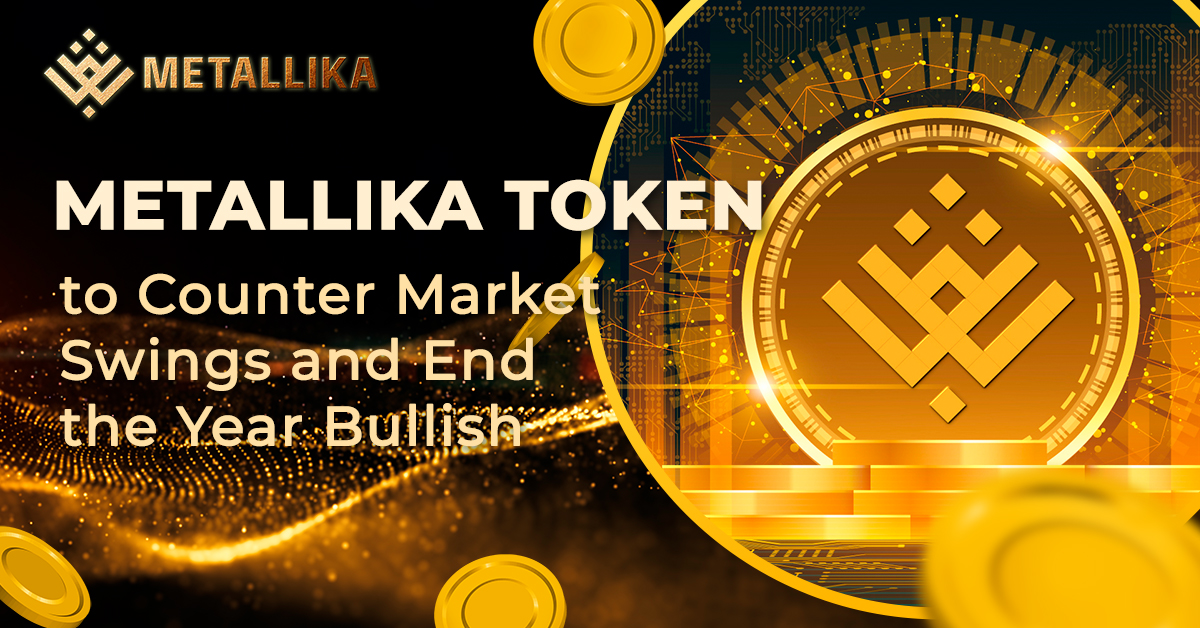 METALLIKA is a blockchain-powered utility token from Metallika Inc. that guarantees access to the company's products and services. Metallika Inc. is a global company focused on decentralizing the mining sector by allowing participants to access data about the exploration and production of minerals at every stage. The company intends to make mining data accessible to all stakeholders through its DAO, powered by its token.
The token reduces barrier entry and fractionalizes entry into small feasible parts for the stakeholders. Token holders will have complete access to information about the exploration, discovery, and trading of minerals. Token holders can approve documents, track inventory, and verify the information.

The token's price is approximately $0.08, based on nomics.com data. The trading volume is around 10-20K as of writing. Despite low trading volume, there are encouraging signs of a significant uptick soon. As a result, the token could experience a bullish run that will see it end the year on a high note.

The blockchain company intends to generate sustainable growth and enormous wealth through burns. The burning mechanism will maintain the price of METALLIKA and bring more returns for its holders. The Metallika team encourages contributors and participants to invest in the token to counter any upswing.

METALLIKA is available for purchase at PancakeSwap, and blockchains like the BNB Smart Chain and Ethereum.
Metallika will Disrupt the Trillion Dollar Mining Industry with Blockchain Integration
Mining is one of the world's largest and most vital industries. Everything used in the world today comes from mineral resources like gold and granite. However, mining is an intensive process that requires expensive machinery to enhance efficiency. Due to the costs of the pieces of equipment involved and the substantial capital investments needed, only the affluent can afford to venture into mining. This leaves no room for emerging entrepreneurs to participate.

Metallika Inc. has examined the state of the industry and came up with innovative solutions to disrupt the centralized power and share it with the public. It aims to do this through blockchain technology. Data about mining costs, exploration, pre-discovery, discovery, feasibility, development, production, and exhaustion will be contained in the smart contracts and shared by the DAO. This reduces the chances of data falsification.

The blockchain mining company has inked some partnerships with notable companies in Africa and the APAC regions to foster growth. For example, it signed with GeoActiv, a South African-based survey and consulting firm identified with the mining industry for over 20 years.

Metallika also penned a deal with Senegalese drilling company IDC. IDC has excellent expertise in the area of mining and drilling. Its partnership with Metallika will steer the mining industry in the right direction and bridge the innovative gap.
About Metallika Inc
Metallika Inc. is a blockchain mining company that aims to democratize the mining industry by tokenizing mining services and data via METALLIKA and its DAO. The company's model will make mineral sourcing sustainable, economical, and reasonable.
Approval of Documents: This includes resource assessment, mine design and other planning.
Inventory Tracking: Transparently see different mining material inventory, sales and other financial reporting.
Audit of Activities: Verification of workflow, quality of mined minerals, sales and finances.
Establishing Ties and Collaboration
Metallika Inc. is a well-established mining entity that is strategically focused on APAC and Africa regions.

Recently made partnerships in Africa region include two heavy-weight mining companies.

GeoActiv is a South African based consulting and survey service that has been in the international mining business for more than two decades. The mining firm offers a one-stop solution to their clients so they don't have to handle multiple contractors, helping in time and effort reduction.

International Drilling Company (IDC) is Sengalese company that lets mining companies outsource their drilling operations. With tailored drilling services that range from diamond heads to rotary air blast, IDC is a professional drilling service that has a professional workforce with deep expertise in working in various mining environments and materials.
About Metallika Inc. Projects
Metallika Inc. currently has four different working projects. Each is detailed and made transparent using blockchain and the METALLIKA token and DAO. Each project is specifically about extracting chemicals or minerals that are important in the global industry.

Graphite (discover stage) and chrome (trading stage) are two important assets, specifically in battery and industrial applications. Granite is a hard rock that has several applications, including industry and even home use. Metallica also has a beach mineral contract from which it is extracting titanium, zircon and rutile. Each mineral is seeing increased demand and has a high value.