Questions to Metallika Inc.
Founder and CEO – Venkatesh Padala

Part 1
On June 21st METALLIKA community participants had a chance to talk in person in the frameworks of the AMA session with the person, who stands for the DAO METALLIKA project and who sees the great benefits of using blockchain technology in the mining industry – Venkatesh Padala. A lot of interesting questions were asked during the session and we will start posting answers in our blogpost.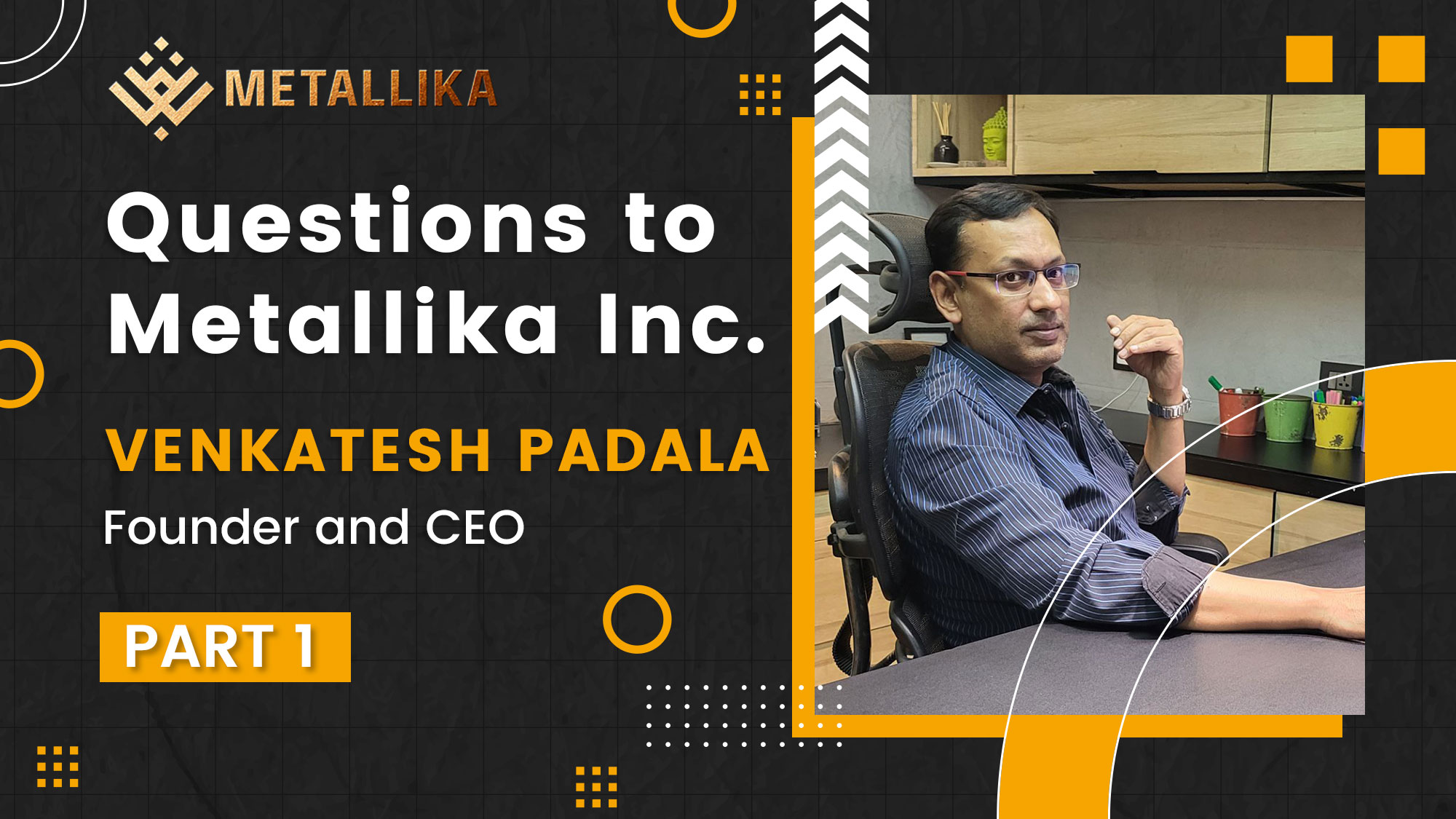 Question 1: What are the criteria that have been put in place to secure investors interests and guarantee optimum growth of the project?
Metallika Inc. has got mineral assets that we are partnering with, like Graphite project, which is highly potential mining partnership that we have. Once explored, it has a potential to get valued at few hundred million and we will have the major stake in it. So, the investors and stakeholders of METALLIKA will also benefit from such partnerships. To start with we work on the Graphite project; then we have the Beachsand mineral project, which is highly valued; the third project that we are participating in is the Lithium project. Once we started our partnership with Lithium project, (as you might know that lithium mineral is more valued than gold today), the value of Lithium grew almost from 2 to 5 times in last 3 years.

So we are partnering with very good projects, that guarantee the revenue for the company, as well as for company's investors. And, of course, we are getting on board a lot of mining companies and manufactures which will help DAO METALLIKA to grow at a rapid pace.

There are challenges on the way, but as you know the blockchain products actually take a little while to be adapted by consumers. So I think we are at a good stage right now; we are kind of pioneers in this area so we have that initial advantage as well.
Question 2: What are your top priorities towards the end of 2022 and 2023, can you share some plans for our next year? Which part of the project are you most focused on right now?
In 2022 we are focused on Phase I of the Roadmap and getting some more partnerships on board. Like I mentioned, we have already partnered with some projects like Granite, Graphite, which will help us to develop the product at better and faster pace.

In 2023 we plan to start developing mines and to look for the company's first revenues and investors. Hopefully we will have been starting to get some good revenues by the end of 2023.

We are very optimistic for 2024, because of the commodity markets and minerals that we obtained. This will add a huge value to the company and investors. So current focuses are the two following things – firstly, it is developing the blockchain and DAO (Decentralized Autonomous Organization); the second thing is developing mines, which is highly potential.
Question 3: Is the METALLIKA project only opened for "Whale-like" investors? How about others with smaller funds? is it open to everyone?
We are going to tokenize the mining industry so that it could be opened to everyone – we are not only looking for "Whale-like" investors, but every investor is more than welcome. As I mentioned, the mineral industry is a bid challenge for smaller investors and that's one of the reasons why we launched METALLIKA – so that small investors can also invest in both mines and DAO.

We do have a presale going on, where large value investors will get a presale discount. If anybody is interested, please get in touch with admin of the METALLIKA Telegram Community and we will work it out, but it is also opened to anybody, including investors with small fund.

Right now METALLIKA token is listed at PancakeSwap. We will be launching soon on other decentralized exchanges, like Gate.io, KuCoin, FDX and Binance – so it will become available for all crypto investors.
Question 4: What do you think will be the biggest achievement on your Roadmap?
I consider couple of things: on the blockchain side it is DAO – getting couple of main mining companies to our DAO will be the biggest achievement, because once we get them on board, we will be able to fully show the potential of our project. For instance, right now we are talking to one big client of ours, who got very interested in our project. They are from APAC region. They are working at production side and they have multiple mines. They came across our Whitepaper and got in touch with us, and we have been already working with them for couple of last months. Right now we are at early stage and their requirements actually come in Stage 3 and Stage 4 but we are trying to see how we could accommodate a part of their requirements in Stage 1 and Stage 2. So they are already keen on that and getting those kind of clients to METALLIKA DAO will be the biggest achievement.

I am also very optimistic about the mine development side – we were on the ground, we know the mines very well, with which we are partnering with and the potential they offer. So, the risk is kind of reduced because we did a lot of ground studies about these mines. Metallika Inc. is not just partnering with any mines; we do a lot of ground work before we start developing or exploring any of the mines – beach, copper beach, beach sand, graphite – any of them.
We will continue posting answers to your questions in future blogposts. For more information about the project, please visit Metallika Telegram Community.