Questions to Metallika Inc.
Founder and CEO – Venkatesh Padala

Part 2
On June 21st METALLIKA community participants had a chance to talk in person in the frameworks of the AMA session with the person, who stands for the DAO METALLIKA project and who sees the great benefits of using blockchain technology in the mining industry – Venkatesh Padala. A lot of interesting questions were asked during the session and we will start posting answers in our blogpost.

View 1st part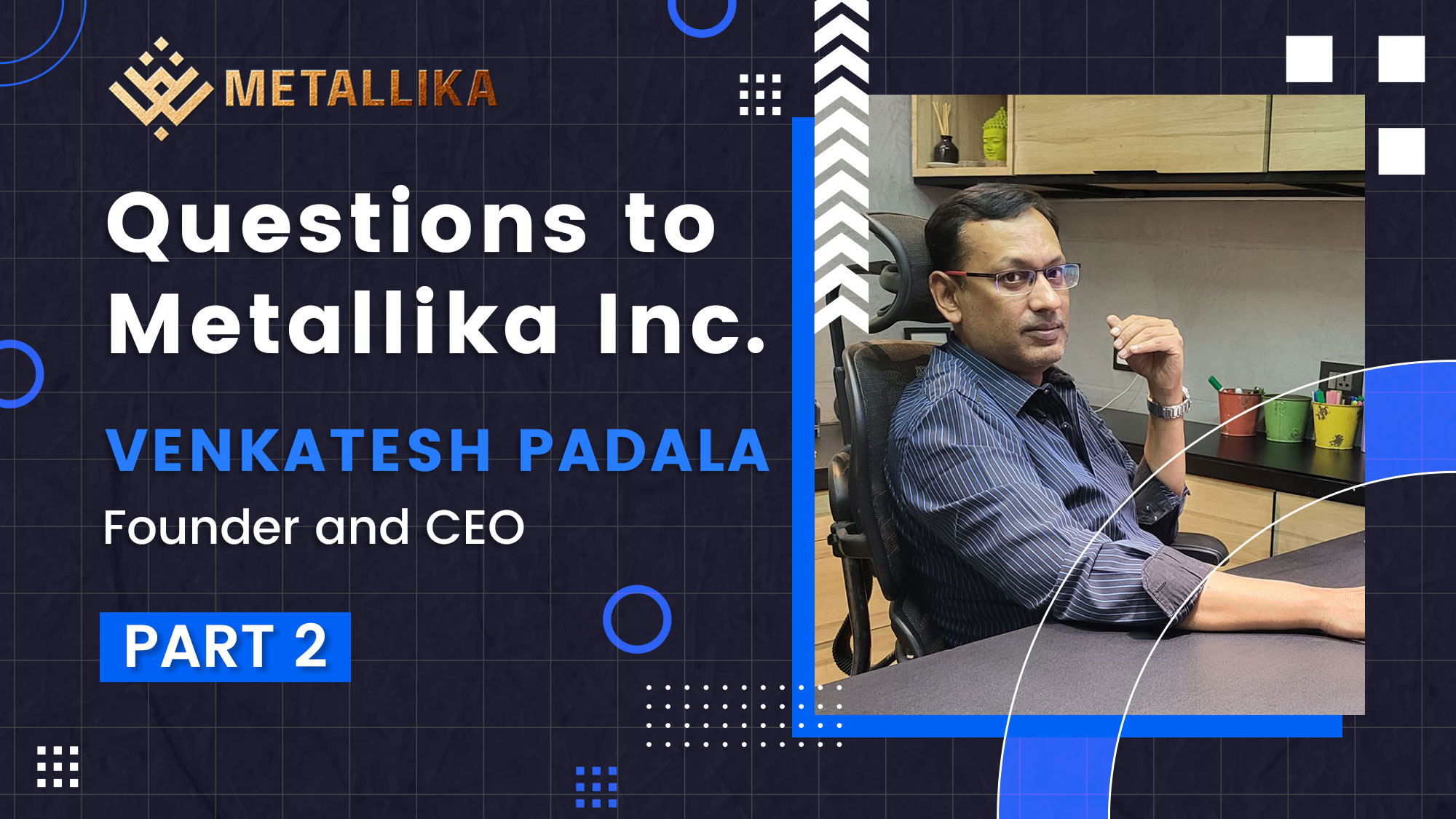 Question 5: One thing that struck me about your project is that it is focused on collaborating with the community, which I believe is fantastic, but will the project development team actually listen to the people's opinions? How functional is the DAO Model?
It is a very good question. In fact, the reason for developing the Metallika community is that we would like to get as many opinions as possible, because there are always better experts than we are in other industries, who can help us to develop and announce the product; much better than we have inititally conceptualized. So, definitely any worthwhile opinions will be taken onto our plate, we will deliberate on that and we will try to see how it can help to develop the better product.

In terms of functionality of the DAO model, it is, like I previously mentioned, at the development stage. We are going to start testing soon and we will come back with the detailed timelines once we have more concrete facts about it. So far, we are on track and we are very solid in terms of the Roadmap and development phase that is going on right now.
Question 6: Is your Project only for English speaking and few countries or for users not of other languages?
Definitely, we would like to accommodate all countries and all languages but our resources are limited, for the time being until we start being a big community, we will be communicating in English and at the latest we will be looking for it, depending on how big is the size of the community.
Question 7: Actually, I am also from India. Where in India does your company work? Do you have any major partnerships in India? Do you export your resource outside India?
Basically, Metallika Inc. is based in Dubai, UAE. We do have a granite partnership in India – this is the only one we have right now. If we get any good mines in India, we will certainly look for these partnerships as well. And the granite mine that we work with in India, it exports minerals to Italy and Turkey and some small portion of it stays in India (we also support sales in India).
Question 8: What is your strongest advantage that you think will make your team lead the market?
Well, as I mentioned earlier, Metallika is kind of first floor in the industry as well as it's got strong asset base unlike other tokens or cryptos in the market. So we've got pretty strong asset and once proven, the value could be in few hundreds of millions or few billions as well. I think that it is the biggest advantage we have, which can help us to develop full-scale DAO model, like how S&P model is in the stock market. I would not call METALLIKA as S&P but I am pretty sure that we have that advantage that we could touch everything in this industry.
Question 9: Where I can get the latest updates or more information about the project?
You could always get the latest updates from our regular blogs, where we keep posting at our official website. Feel free to get on that. We also keep posting news in our Community and make updates in our accounts in Twitter, Facebook. Metallika Inc. is pretty much everywhere.
There are pinned messages in the Community that share the links, where you could look at.